Zapier Makes Me Happier
2020 is the year of business automation!
Okay, not officially 😉
But for me, this year is all about helping you to get the best business growth, reach, profitability, time and balance through automating your business.

Now, if you're ready to get on the automation train that's awesome! And if you've got questions about exactly where to start, hopefully, this blog post will get you onboard.

Today, I'm sharing with you my FAVOURITE automation tool. This is what I call the Granddaddy of Business Automation.
I'm talking about Zapier.
So what is Zapier?

Zapier is a tool that allows you to connect your business applications together. This tool connects over 1000 web applications together so that is HUGE.

Let's say you want to take the attachments from your emails and add them to Dropbox or Google Drive... Zapier can do that for you.
Or maybe you send out surveys to clients and you want to collate all the feedback you receive, in one place. Zapier has you covered.

So let's get going!
How to get started with Zapier

While Zapier has paid plans, you can get started for FREE!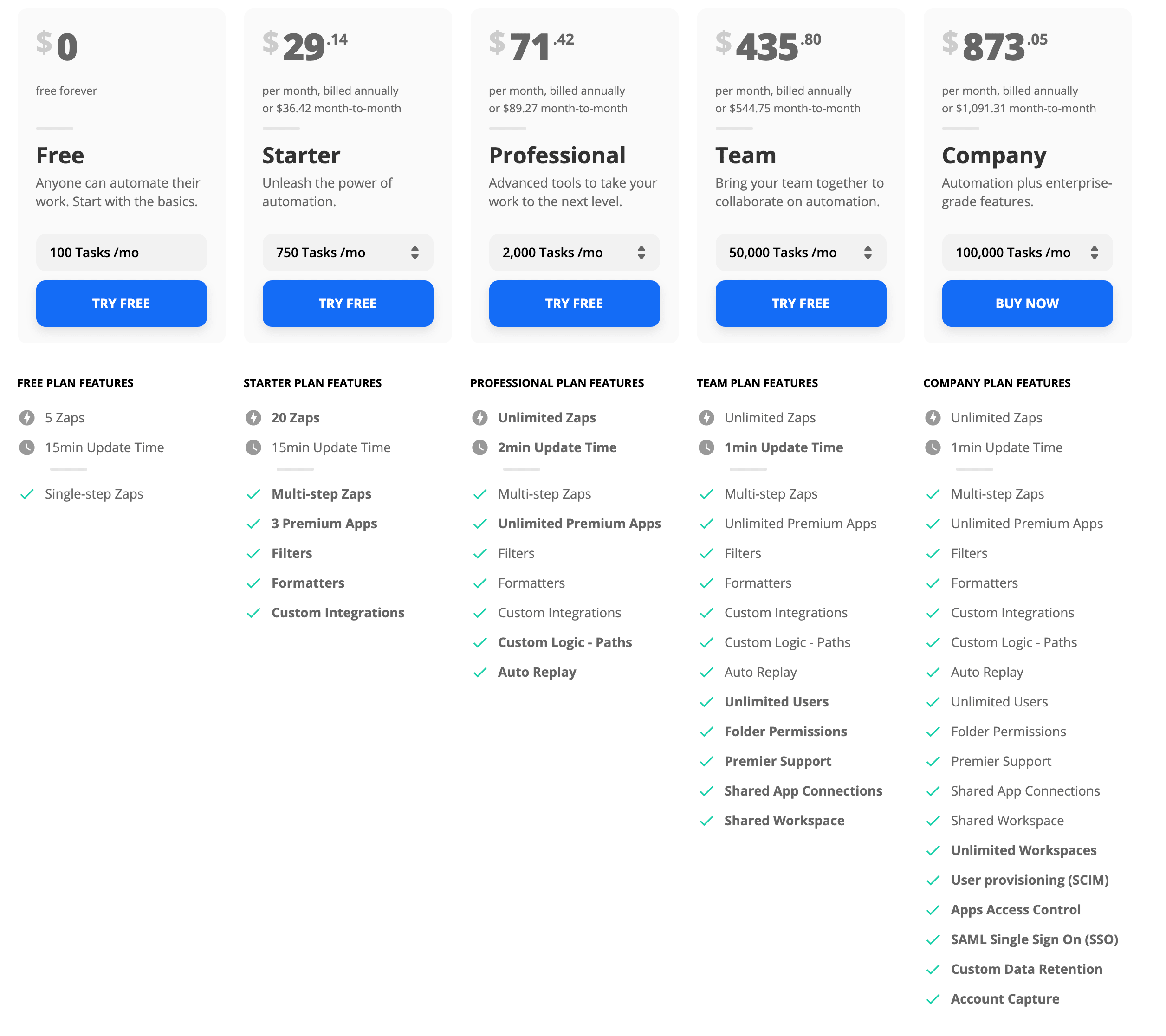 The free plan includes 5 Zaps (more on that soon) and these 5 zaps can occur 100 times each month (collectively).
The free level doesn't include any multi-level zaps (so a zap that has more than 2 steps).
But it's the perfect plan to dip your toes into automation...and it's free so you've got nothing to lose.

You can signup for your Zapier account right here.

During the signup process, you'll select the apps you use.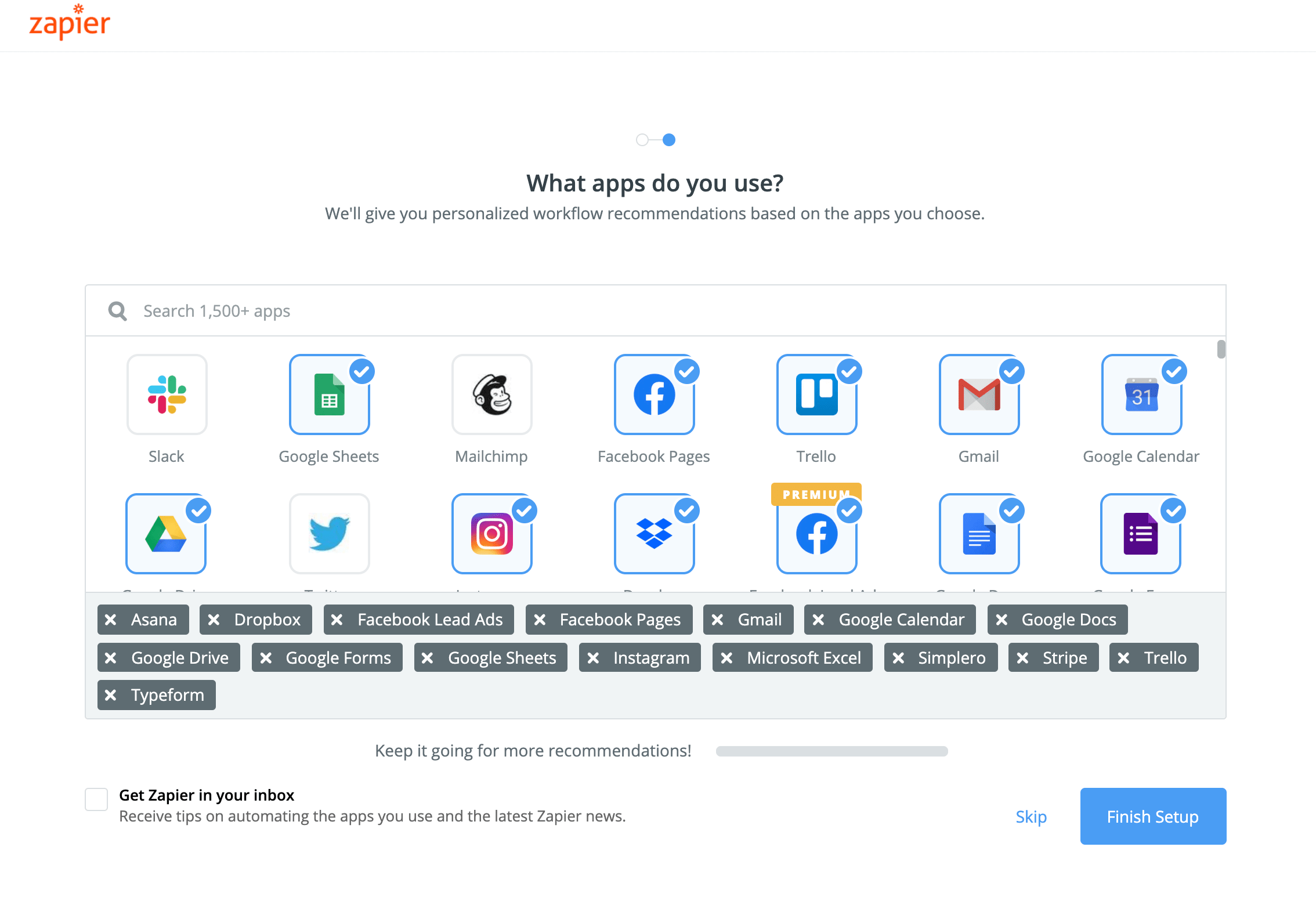 It suggests putting in 5 apps to get tailored recommendations...
I recommend putting in AS MANY as you can.
Any app you currently use in your business...add it.
Creating your first Zap
Below I'm sharing with you my favourite zaps. But first, let me explain how Zapier works and what a zap is.

Zapier works on a trigger and response action basis. So when x happens, make y happen too.
And so a zap has two components. A trigger and an action.

The first part of setting up any zap is choosing what your trigger action is going to be.

I'm going to be using one of the examples I mentioned earlier,  adding email attachments in Dropbox.

The trigger is going to be Gmail.
Setting up your trigger event
Once you're in your account, select 'Make a Zap!' from the top right of your screen.

Choose the app you that will be the trigger...in this case Gmail.
Scroll through all the available trigger events that are available for the app. 
Select the one that is right for this particular zap.
For this example, we are using the 'New Attachment' trigger.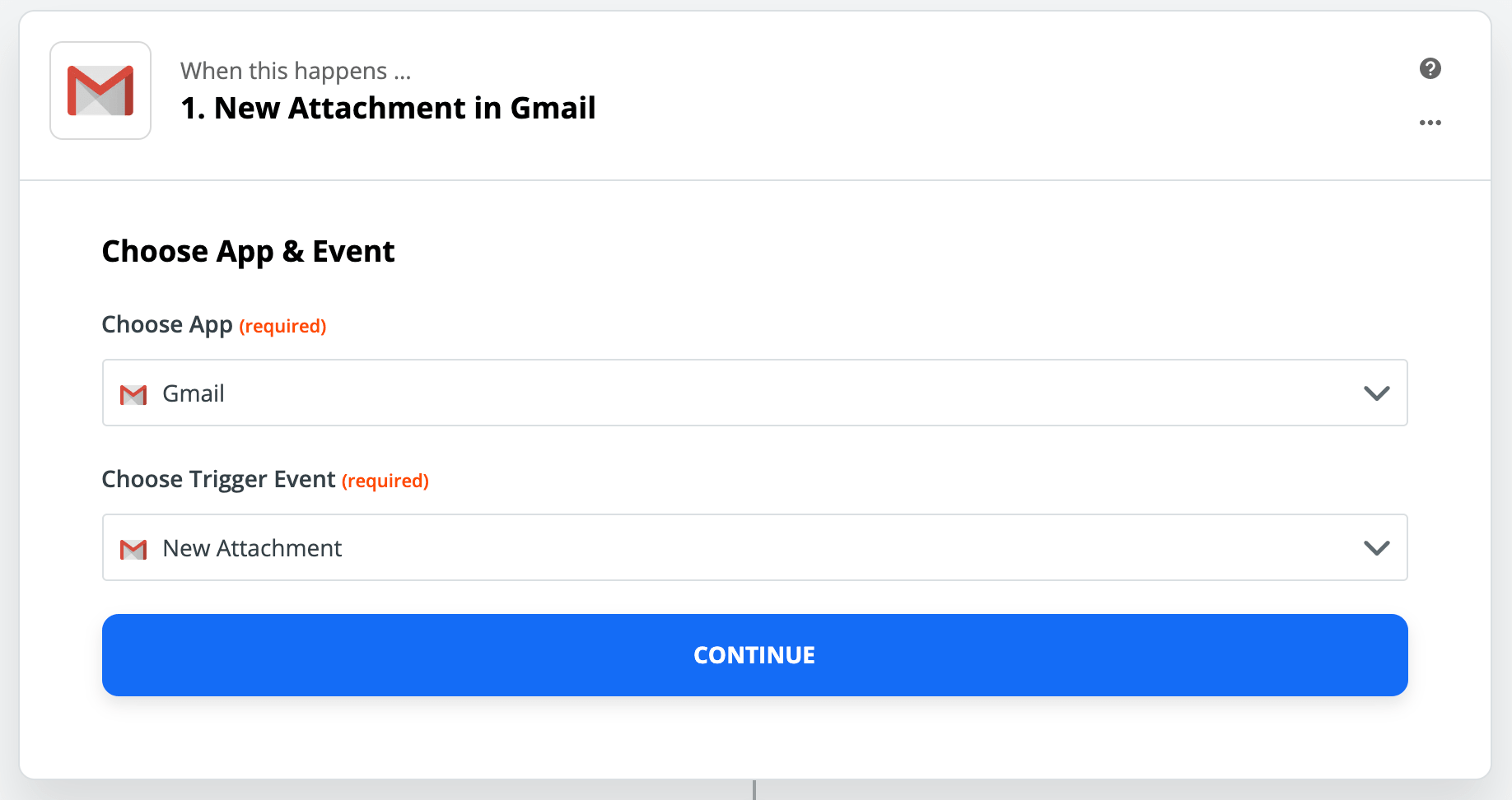 Next, if you haven't already done so, go ahead and connect your app to Zapier. 

You'll then complete some more customised actions for that particular app.
Some actions are mandatory for the zap to occur, others are optional.
The Gmail set up asks for a label or mailbox to look at for the attachments, but this step is optional. If one is not chosen, it will default to the main inbox.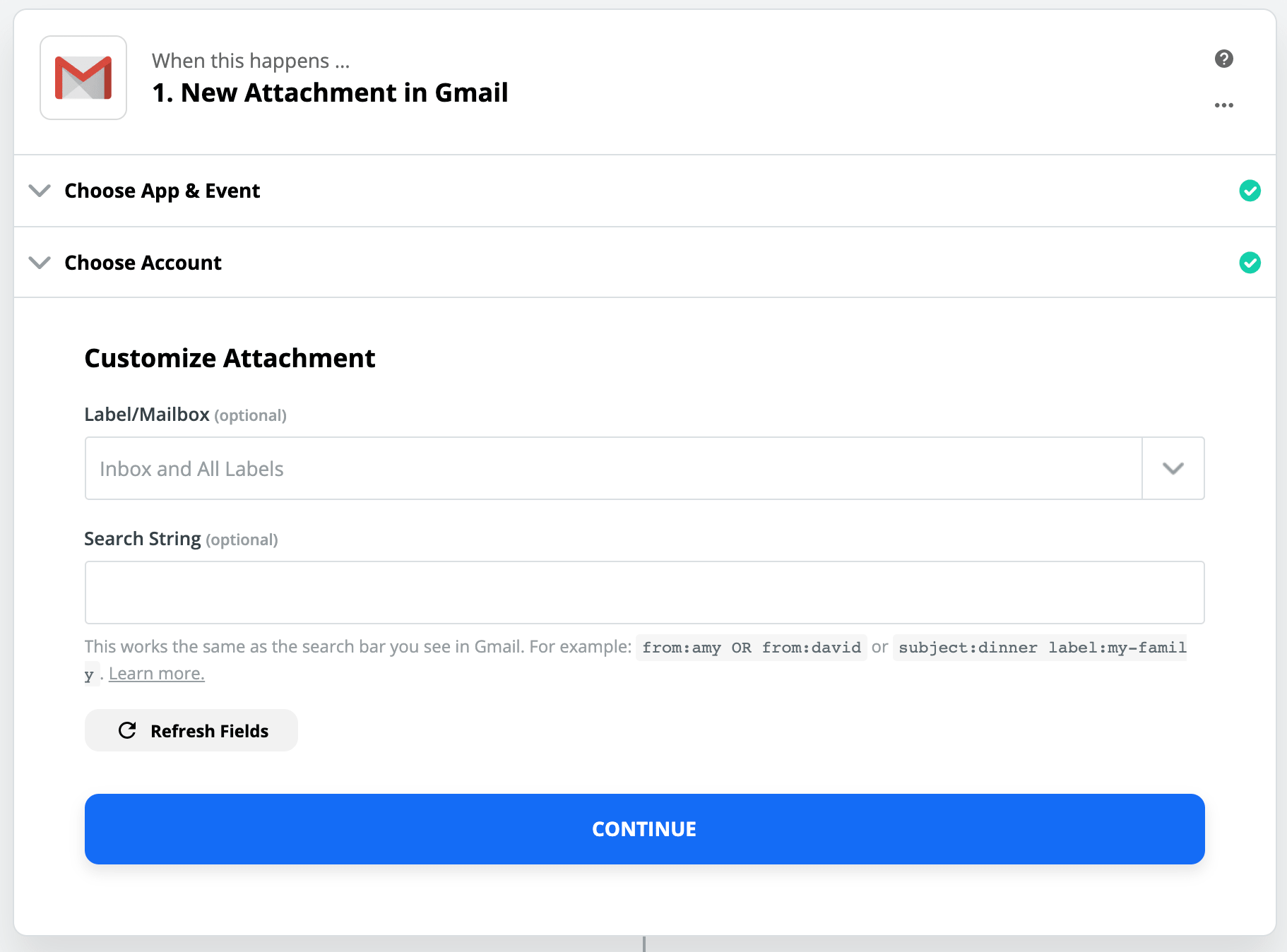 Next - time to test.
Select 'test and continue' so Zapier can look for the relevant data in your application.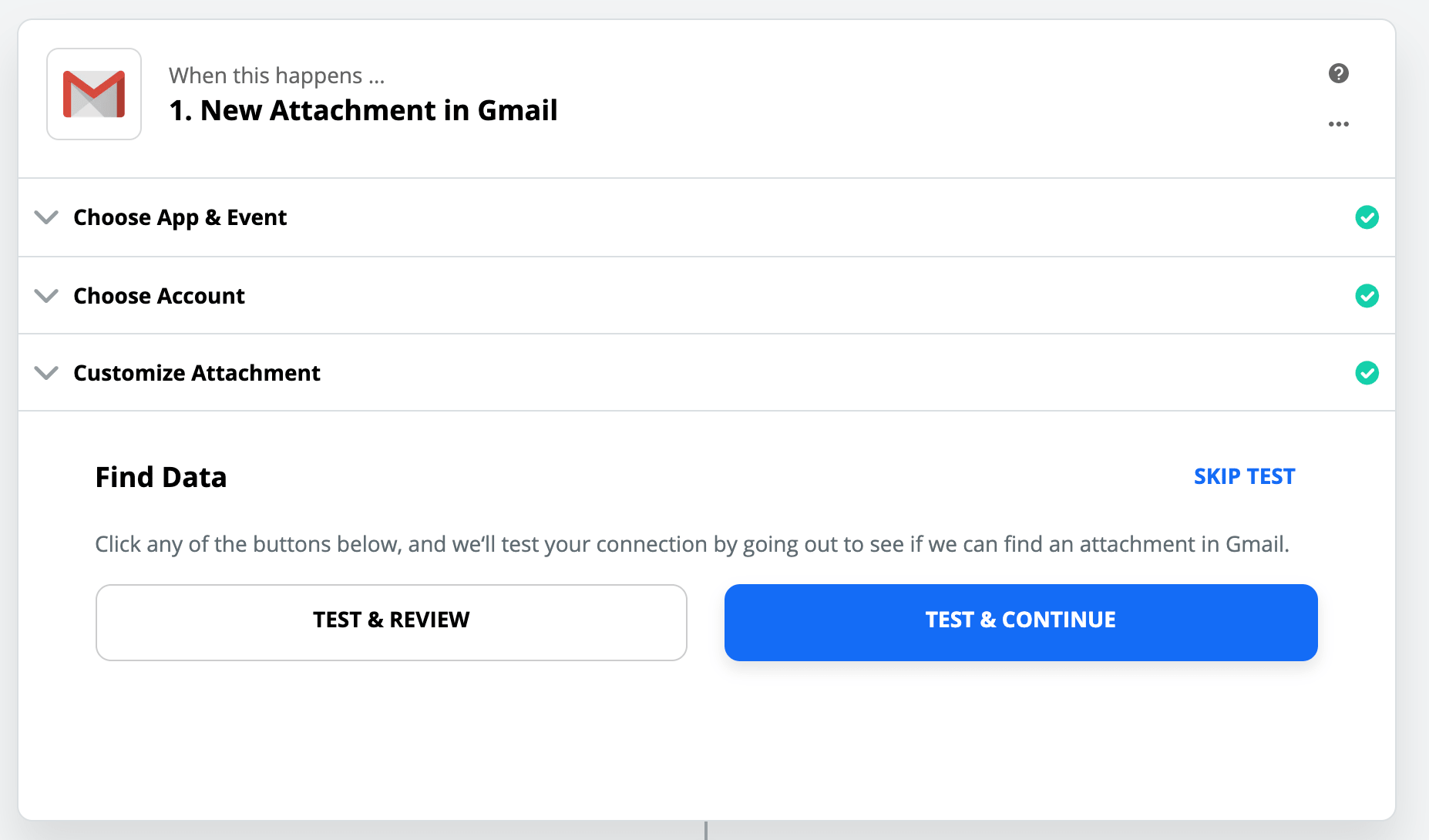 Once Zapier has some test data, it moves on to the response 'Action'.

Setting up your action event
As we did with the 'Trigger' step, choose the action app.
For this example, we're going with Dropbox.

Choose the Action Event
Because we want our action to be adding the attachment from Gmail into Dropbox, our action is 'Upload File'.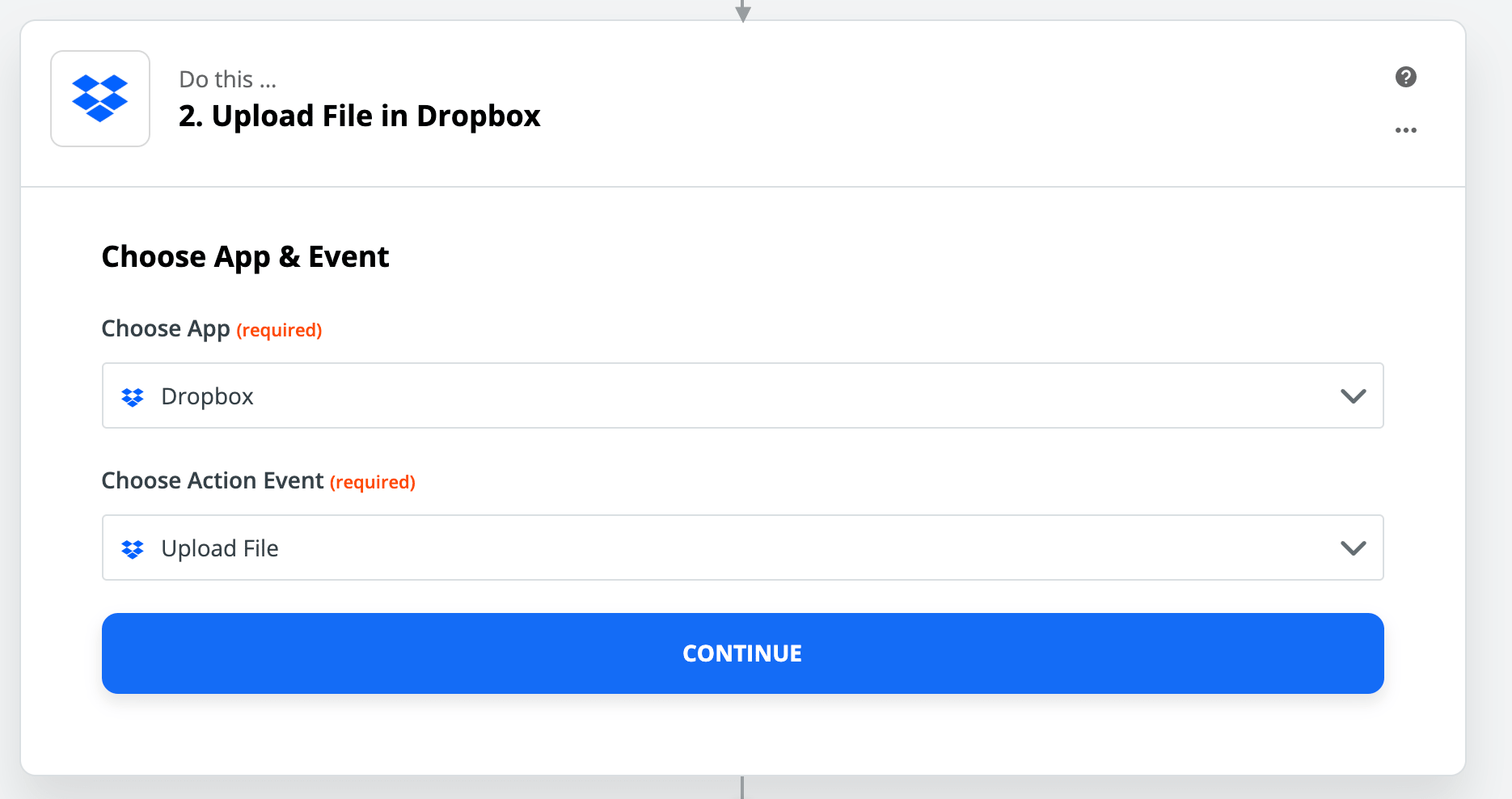 You're going to need to sign in to your Action app (if you haven't already).

The customisation options for this app are more detailed that the Gmail options.
And a few of them are mandatory.

First, we need to specify which Dropbox Folder to upload the attachments to.
Select the dropdown menu and Zapier will bring up all the available folders. Select the one you want your attachment uploaded to.

Now it's looking for the file to upload. This is the 'file' that was found during the testing mode in the Trigger step.

We're going to use the 'Attachment' option.

For this particular example, we're also going to 'Specify File Name'. Using the drop-down list, select 'Attachments Detail Filename'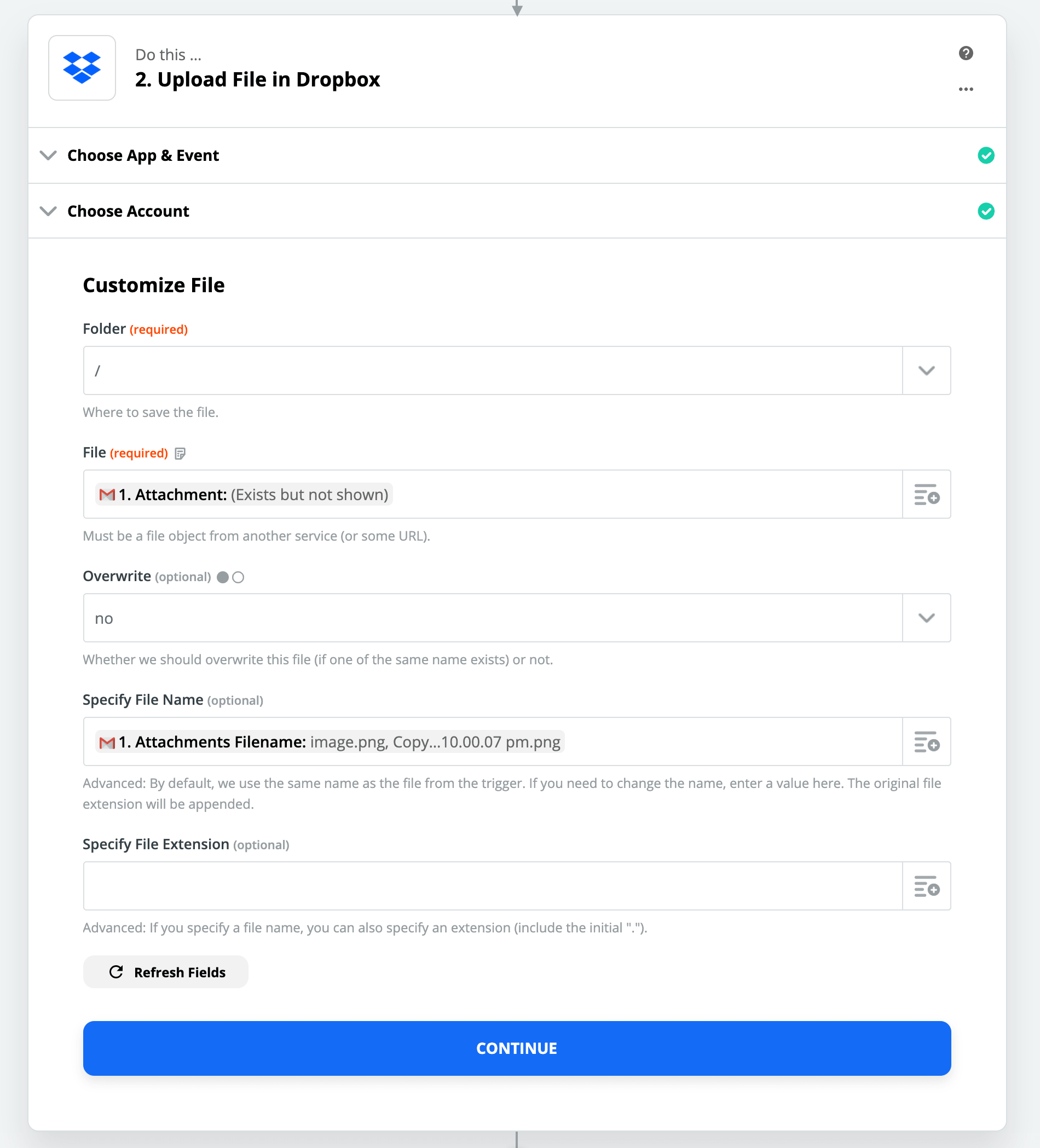 Zapier will present a summary of all the data found within the test sample that matches your customisation details.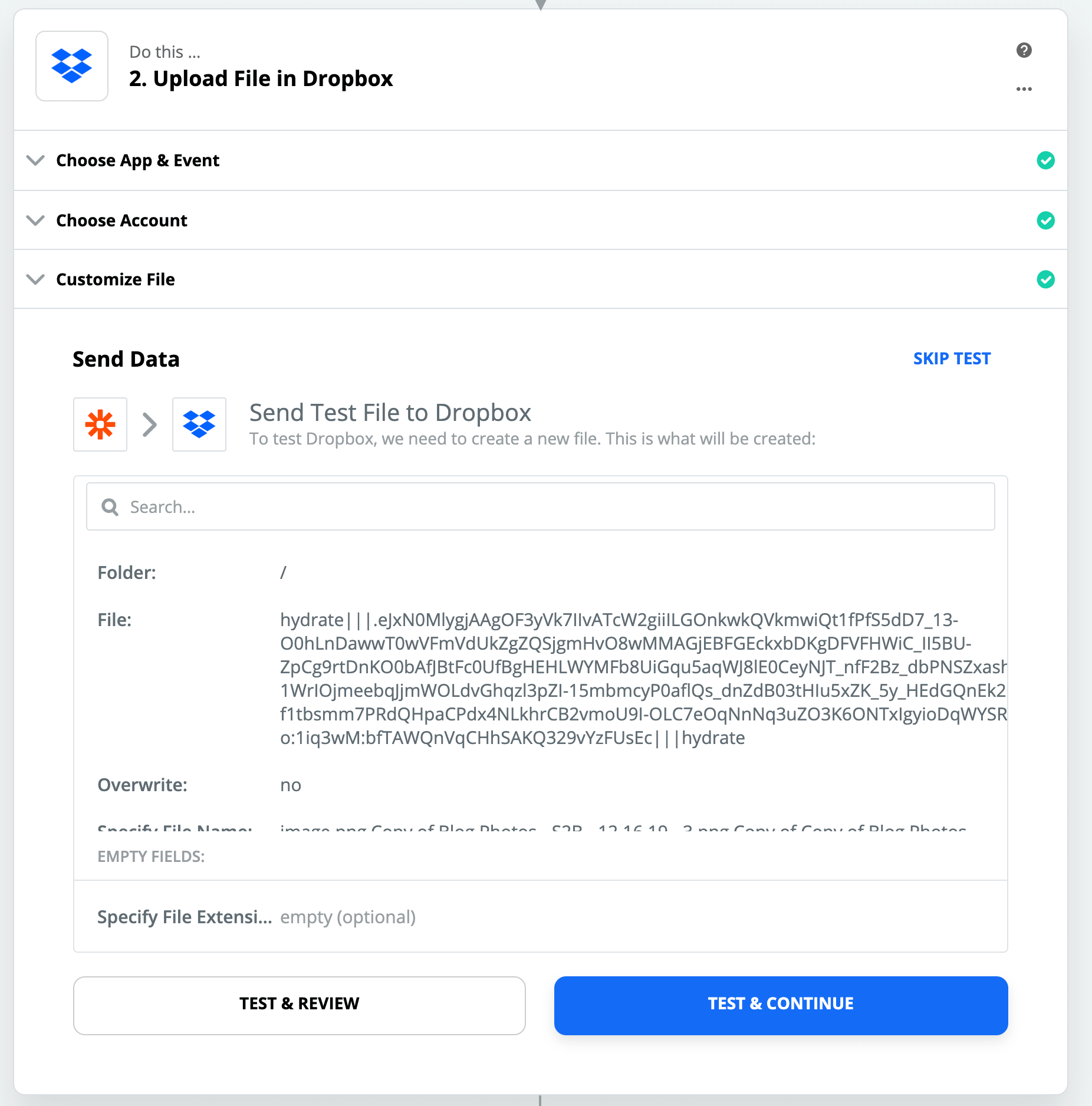 Be sure to Test and Continue here.
And we're done...you should have a lovely box on your screen that tells you your Zap is Ready to turn on.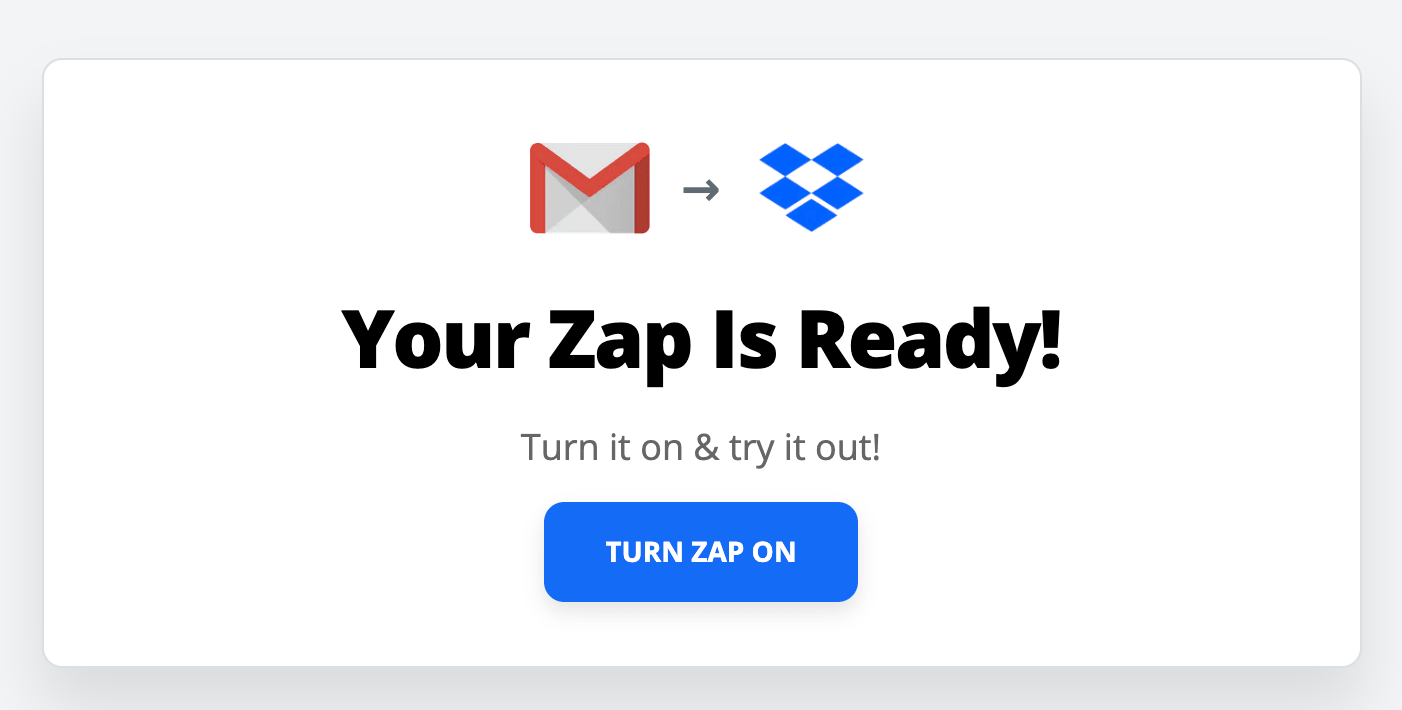 Don't forget to turn it on!!
I always recommend checking your zap is working. Jump into your trigger application and check that the action has happened.
In this case, the attachment to the email is in there.
With Zapier, there are thousands of zaps at your fingertips. Thousands of ways to save you time in your business. And that's what I love so much about this tool.
 

Here are some of my favourite Zaps
Typeform response creates a card in Trello
My feedback surveys and testimonial forms are in Typeform. When someone submits the form a card is created on my testimonials board. The card includes all the relevant info from the form.
Turn labelled emails into tasks in Asana
When a particular label is added to an email, Zapier creates a task in Asana with the details pulled straight from the email.
Fill your buffer queue with content from New Trello Cards
I love this one! I have an editorial calendar board in Trello. Each card on the board is a blog post and social media post. When I move a card to the 'Ready to publish' list, Zapier does its magic. It grabs the content that I specify for social media and adds it to my queue in Buffer to go to my social media networks.
Save new Instagram photos to dropbox
When a new photo gets posted to your Instagram account, this zap will save a copy of that photo to dropbox. This is a great hack to backup of those impromptu photos.
Create a new google drive folder for new Trello cards OR new asana tasks
If you like to keep separate google drive folders for your clients, this is a great zap. When you create a new card in Trello for your client (or task in Asana) Zapier will create a new folder in your Google Drive. Simple - done.
Send an email via Gmail for new Google Form submissions
Someone completes a google form, have Zapier send them an email via Gmail in response to that form. This is a great way to acknowledge action. And a great way to nurture your audience.
Add new Facebook Pages posts to a buffer queue.
If you make impromptu posts to your Facebook page that you want to share across your other social media networks, this zap is for you. Don't worry about manually copying and pasting your post to other networks...Zapier will do it for you.
Now...go...automate some of your most manual tasks using Zapier.

Let me know how you go, and what you've been able to automate using this amazing tool. Seriously, post a comment below and give me all the goss. I really want to know!!
---
I truly want to help you get aboard the automation train in 2020.
So I'm offering a 30% discount on my Automation Strategy Session.
You'll only pay $97 to get my eyes on and suggestions for your business automation.

Spend 60 minutes with me and deep dive into your automation strategy for this year.

We will create a strategy to implement the automation that will scale your business, build your profits and inject time into your week. You'll also get a detailed, customised action plan to help you action the automation.
My clients are getting AH-MAZING results from these strategy sessions. They are turning the manual aspects of their business into automatic, money-making machines. And you can experience that too.